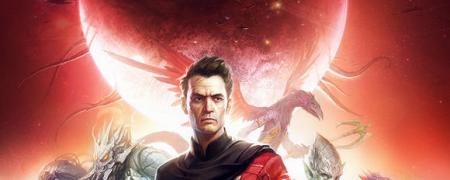 It's been a long time coming, but the eagerly awaited science fiction strategy game Sword of the Stars II: Lords of Winter is finally here! Vancouver based Kerberos Studios has been working on this deep empire building game for a while, with an entirely new graphics engine and lots of new gameplay tweaks to help you conquer the cosmos. It's being published by the European strategy giant Paradox and both developer and publisher have been a pleasure to work with through this every exciting project.
For my part, I've found it especially thrilling to see how the SotS community that the development team has cultivated has rallied around the game and the studio, increasing its visibility and advocating for a type of strategy game we don't see much of any more – and SotS II stands out in that small circle as something truly unique. I hope the fans love and appreciate what Kerberos has put together for them, and that newcomers will find a fulfilling strategy experience. Full press release after the jump.
Sword of the Stars II Blasts Off into Space!
Sci-Fi Strategy Sequel Now Available
NEW YORK — October 28, 2011 —Raise shields, arm the phaser banks and plot a course to victory in Sword of the Stars II: Lords of Winter, the new science fiction empire building game from Kerberos Productions and Paradox Interactive. Sword of the Stars II is the sequel to the cult strategy favorite Sword of the Stars and continues the franchise emphasis on meaningful strategic choices, thrilling space combat and galactic conquest in a universe rich with personality and history.
The races from the first game have now established themselves in small empires in the stars, but new challenges and new technologies await, as does an ancient enemy from the past that you can call on to buttress your alliance – if you dare.
Sword of the Stars II: Lords of Winter has an entirely new graphics engine to make its real time space combat come alive. Navigate your fleet in battle in a 3D environment that lets you target your enemy's weak spots, dealing crippling blows with carefully prototyped standard vessels or massive starships.
The strategic layer adds provincial management to help you keep an eye on the big picture as your empire grows. Your civilization develops with you, and the choices you make will determine what kind of government your citizens live under. The tech tree you can research is never exactly the same from game to game, ensuring tons of replayability even on identical maps.
Kerberos has always been dedicated to the Sword of the Stars II community, so sign up and do battle with other players in multiplayer games that cross time and space. Uncover the mysteries of the stars, settle new colonies in your rivals' systems, blow their cruisers out of the sky. Or make peace with them and face the dangerous Suul'ka together.
The choices are yours and you can start making them now. Sword of the Stars II: Lords of Winter is available on all major digital download portals for 39.99.